Safe and affordable tree removal
Though we like to preserve trees, tree removal is a very important part of arboriculture and one that we implement professionally and safely. Our goal is to maintain trees to keep them healthy and safe, but there are situations when removal is the best choice for the owner, community and environment.
When a tree inspection reveals a potential issue; possibly the tree is dead, dying, diseased, nuisance weeds species, and or structurally unsound. Tree removal may be necessary.
Tree removal is a very dangerous aspect of arboriculture. Often, tree workers must remove trees growing in confined spaces near houses, power lines and other delicate areas around peoples property. Tree removal requires significant expertise to successfully perform this task.
At Eden Trees, our arborists are highly skilled to work safely and efficiently in all tree removals. We provide complete cleanup of debris and strive to reduce the impact to surrounding vegetation.
Ask us about suitable replacement planting options.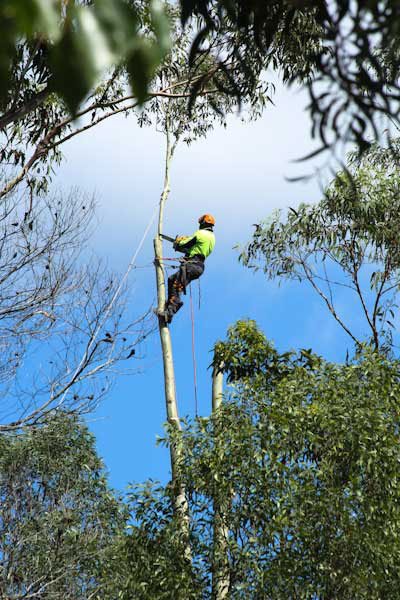 Obligation-free quotes
Contact us today for all you tree service requirements. We will be happy to conduct a free on-site inspection within 48 hours. Our obligation-free quotes include valuable tree advice, risk assessment and clearly marked photographs outlining the scope of work.
Tree Removal
Though we like to preserve trees, tree removal is a very important part of arboriculture.
Tree Maintenance
Proper maintenance of your trees gives your property the benefits of beautiful trees.
Stump Grinding
We understand trees and palm root systems. We give the best advice for the right solution.
Emergency Work
We are available for emergency tree work with a 24/7 emergency response unit.
Tree Reports
Trees are valuable assets. Tree maintenance maximizes benefits and minimizes risks.
Tree Planting
Our qualified arborists can assist with the selection of quality stock and planting of trees.